2022 ACS Binghamton Local Section Awards Dinner
Congratulations to all awardees who were recognized on Awards Night! Thank you to all of the attendees, and a very special thank you to Brian Callahan for his address. See the following highlights from the event.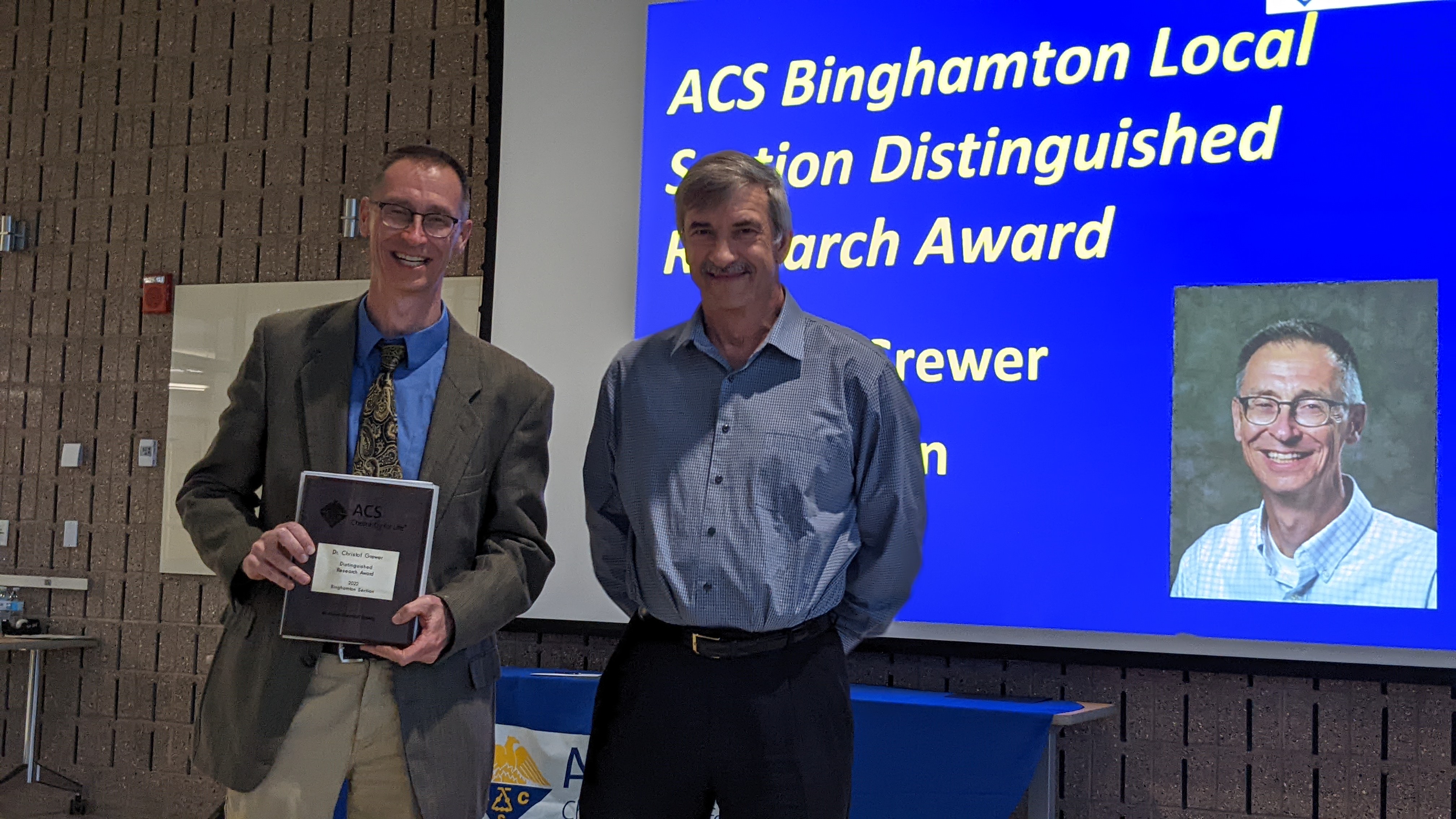 Inaugural ACS Binghamton Local Section Undergraduate Poster Session
Thank you to the volunteers, attendees and presenters for making our first Undergraduate Poster Session a success. Undergraduate researchers in chemistry and related fields presented their posters to Faculty, Staff and fellow Students, Friday December 3. See the following highlights of the great scientific conversations had throughout the event.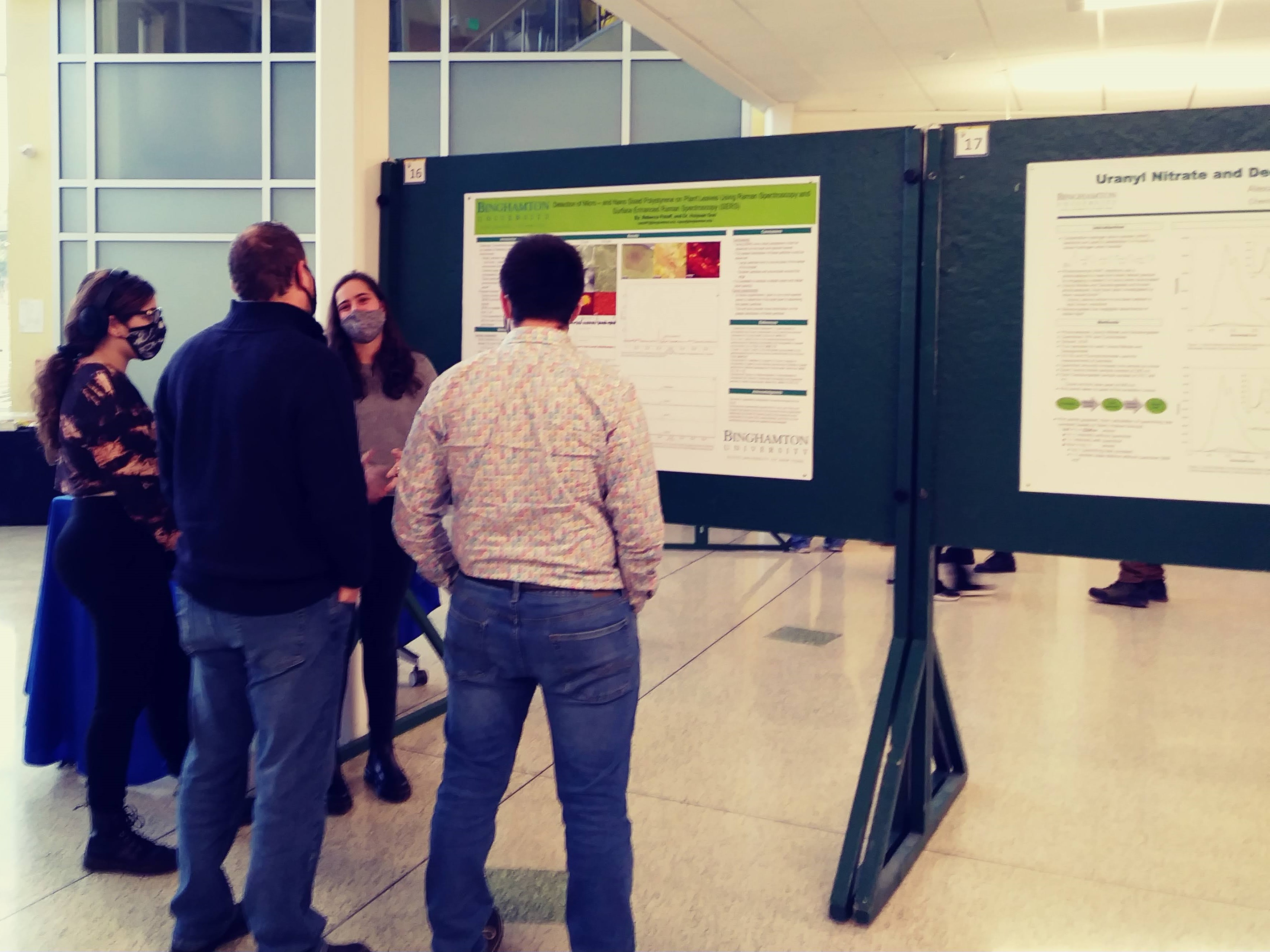 Illustrated Poetry Contest Winners - National Chemistry Week 2021
More Congratulations in Order!

Calliope Brennan from Chenango Forks Middle School won FIRST place Grades 6-8 in the 2021 National Chemistry Week Illustrated Poem Contest!




Thalia Brennan from Chenango Forks Elementary School won SECOND place Grades K-2 in the 2021 National Chemistry Week Illustrated Poem Contest!




For full results check: illustrated poem contest winners
Binghamton Local Section Awarded the 2021 ChemLuminary Award!
Congratulations are in order!

During National Chemistry Week, the ACS Binghamton Local Section was awarded the 2021 ChemLuminary Award for Outstanding Sustainability Activities Award from the Committee on Environmental Improvement!

This award recognizes the efforts of the many volunteers involved with the one-hour Virtual Sustainability Event held during National Chemistry Week 2020. Our event reached over eighty households in our area and shone a spotlight on the global plastics pollution issue through hands-on activities provided to each family. The kits were prepared and packaged by Drs. Alexsa Silva and Megan Fegley; the virtual event was staffed by caring undergraduate and graduate students (special thanks to Victoria Kompanijec, Ezer Castillo, and Lynn Terry for being the on-camera personalities!); and the Zoom session was directed by Dr. Fegley.

Because of the combined efforts of our devoted volunteers, our event was extremely successful and earned recognition with this ChemLuminary Award!
Thank you to everyone that made our 80th anniversary one to remember! Click here to see some of the highlights from the evening!
2019 Nobel Prize in Chemistry Awarded to Local Section Member!
We are very excited to announce that Dr. M. Stanley Whittingham, a 45-year member of the ACS Binghamton Local Section and a Distinguished Professor of Chemistry and Materials Science at Binghamton University, has been awarded the 2019 Nobel Prize in Chemistry for the development of lithium ion batteries! Congratulations, Dr. Whittingham!
https://www.nobelprize.org/prizes/chemistry/2019/summary/
Chenango County - Drs. Paul Scholarship
We are sad to announce the passing of Dr. Barbara Paul Losty, daughter of Drs. Henry and Mary Paul. Her obituary can be found
here
and in lieu of flowers, the family asks for donations to made to either the Michael C. Niles Grant in Art scholarship at University of Missouri, or the Drs. Mary & Henry Paul scholarship fund in Binghamton, NY in her honor. Individuals wishing to donate to the Drs. Paul Scholarship fund may send a check made out to the ACS Binghamton Local Section to:
B. Turnpenny
Instructional Chemistry
S2 222
Binghamton University
Binghamton, NY 13902-6000
Welcome to the Binghamton Local Section of the American Chemical Society!
It is our pleasure to welcome you to the official website for the Binghamton Local Section of the American Chemical Society. Please click here to learn more about our local section.

Please check out the Activities tab to learn more about our many exciting events and programs, such as the United States National Chemistry Olympiad, Chemists Celebrate Earth Day, and National Chemistry Week.

Take time to become active as an ACS Member in our Section! Contact us with any questions and/or suggestions.
Binghamton ACS Local Section Mini Grants
The Binghamton ACS local section will be offering a limited number of mini grants to section members who wish to sponsor an event or activity that will increase the engagement of members and encourage innovative activities that will benefit the local community, schools, or legislative government.
Grant Details:
A limited number of grants (up to $200) are available to local section members who wish to host an event/activity that meets the above criteria.
The application is on a rolling basis and applications will be reviewed during the academic year. Grant funds are limited and will be awarded on a first-come, first-served basis.
A summary report must be submitted within 30 days of the conclusion of the event/activity.
Some events for consideration include: hands-on science activities with K-12 students, their teachers and/or their parents, professional development events for undergraduate and graduate level students, etc.
Link to online application:
https://forms.gle/W5mFAGSd8qzadXMVA